For the last couple of months I've been busy developing HTML2PDF Web Service. Due to some setbacks I had to postpone its launch. The way it's looking now I'll be ready to launch by the end of the month.
So what had to change?
I had to switch from Payment Service Provider, which is done now. Instead of only credit cards I'm now supporting PayPal, iDEAL, Paysafe Card and Mister Cash. Credit Card support should come back later. Instead of recurring subscriptions you can now buy up to 1 year of access in advance. This is due to not being able to support recurring subscriptions anymore because of the PSP switch.
All that's left now is changing the way token usage is being calculated and it should be all set to go. The HTML2PDF Web Service is still in beta, so feel free to try it out. Once the web service is out of beta I'll do another post here with a follow up on used technology (Perl, Go and more!).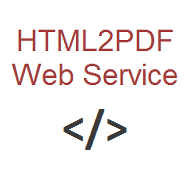 Using
HTML2PDF Web Service
you can design in HTML and CSS, and convert the resulting page to PDF. Free trial available!