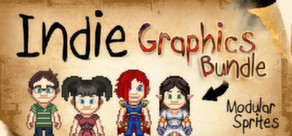 When Indie Graphics Builder started on Kickstarter I decided to help the project by donating money. I really liked the collection of spaceships and parts which I've used in a project of my own called Space Strategy (Dutch page – screenshot).
For a while now the IGB is also available from Steam which makes installation and keeping up to date really convenient.
Indie Graphics Bundle is a content pack comprised of modular graphic .PNG files that can be combined, remixed, or modified to create your own sprites. The current pack includes over 10,000 graphic files with more to come.
Here's a list of what kind of content is inside:
*New – Animated Character Creator Pack
*New – Animated Bug Invaders & colorful planets
Gems
Interface Builder (5 styles)
Jungle Scene and Platform
Landbuilder
Map Maker (5 styles)
Platform Pack
Puzzle Assets
RPG Interface
Ship Builder (29 styles)
Sky Builder
Solar System
Solar System 2
Space Assets
Top Down Landscape
Weapon Builder future
Weapon Builder modern
Weapon Builder medieval
I recommend every aspiring (hobby) game developer to checkout this collection of royalty free sprites. You can get it from Steam with a 40% discount (which seems to end tomorrow).