Recently I installed the wrong version of ShrewSoft VPN which changed the way my Windows 7 computer would let me login. Changing it to having to select a user at start up before logging in is not the way I prefer it. Windows 8 seems to do this by default, especially when you've got your Outlook account linked to it.
Since this isn't a setting you change often I decided to document it for myself for future reference.
Luckily there's a little tool in Windows to change this behavior. Simply run the program netplwiz and you'll see the following screen (click to enlarge):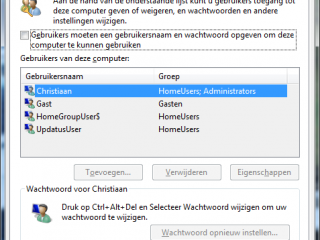 Simply sign the check box, which in English will probably be something like "Users must enter a user name and password to use this computer". When saving you're likely prompted to enter a password for the default account the computer should sign in with. If your account isn't password protected you can leave this empty. On Windows 8 if you've got your Outlook account linked enter your Outlook password.